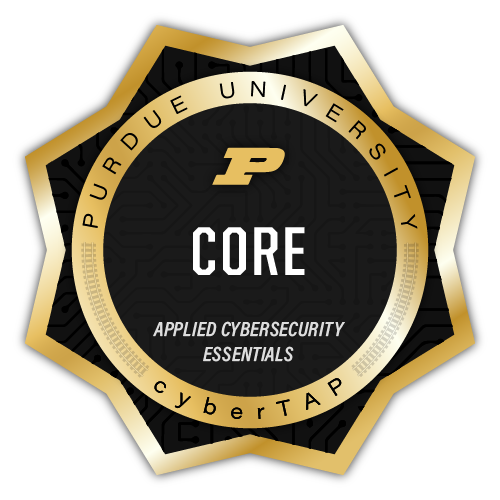 Applied Cybersecurity Essentials - Core Series
Duration: 160 hours
Delivery Options: Online, In-person, Hybrid
The Applied Cybersecurity Essentials - Core gives you the cyber and information security fundamentals needed to start your journey in cyber. You will learn general cybersecurity topics such as cyber domain knowledge and history, key security concepts, risk & vulnerability management, cryptography basics, and identity access management. You will also get hands-on during labs with industry tools such as identity access managers, virtual machines, firewalls, navigating networks, and even beginning penetration testing. 
Who should take this series
A.C.E. - Core is designed for a general audience interested in learning about cyber and information security. While focused on those starting a career in cyber, this series is a great starting point for leaders who need to understand cyber.
How can you take this series
Online
Available online as either self-paced or live with an instructor
In-person
Available in-person either at Purdue or at your location.
Hybrid
Available as a combination of online and in-person
What you can expect from Applied Cybersecurity Essentials - Core Series
Cybersecurity has been a growing and integral part of modern businesses for the better part of the last 20 years. Due to being one of the fastest and most dynamic industry sectors, cyber and information security has a massive gap between the number of open positions and the number of qualified professionals. This gap makes cyber an attractive sector for individuals looking to change careers or organizations looking to upskill their existing workforce. The Applied Cybersecurity Essentials - Core series is the starting point many are seeking. The series covers various cyber and information security topics, such as cyber history, cryptography, vulnerability management, and ethical hacking. A.C.E. - Core lays the groundwork and understanding for cybersecurity and is appropriate for all experience levels.  
Key Takeaways
For Organizations:
Better adapt to the volatile world of cybersecurity. 
Get hands-on with industry tools in virtual labs.
Perfect for I.T. and C-suite 
For Individuals:
Gain an understanding of fundamental cyber concepts.
Get hands-on with industry tools in virtual labs.
Learn at your own pace online
Training
You can go through A.C.E. - Core in various ways: self-paced online to in-person with a cyberTAP instructor. The series is divided into four courses, with each course consisting of lectures, readings, quizzes, self-assessments, and virtual labs. Each course is 40 credit hours, and you will earn a badge upon passing. 
Available Courses
CORE-110: Focuses on the foundations of cyber and information security and covers topics such as history, cryptography, and risk & vulnerability management.
CORE-120: Introduces critical concepts for enterprise-level security, such as security frameworks, network architecture, virtualization, cloud security, and data protection.
CORE-130: Learn skills related to vulnerability management, such as threat hunting, scanning, incident response, application security, and disaster recovery.
CORE-140: Practice ethical hacking and understand topics such as network and systems enumeration, detailed scanning/sniffing, system attacks, and social engineering. 
Tech Requirements
It is recommended that all of cyberTAP courses be taken on a laptop or PC that runs either Windows of Linux as an operating system. We also recommended to have a fast and reliable internet access.
Are you interested in learning more?
cyberTAP's comprehensive approach to teaching cyber fundamentals and building practical skills through applied technical training is perfect for those interested in starting a new career, learning a new skill, experiencing a cyberattack firsthand, or making a team around cybersecurity. Our programs are fully customizable to offer a tailored solution for individual and corporate needs. Let's get in touch and see just how cyberTAP can partner with you and develop a training program just for you and your team.